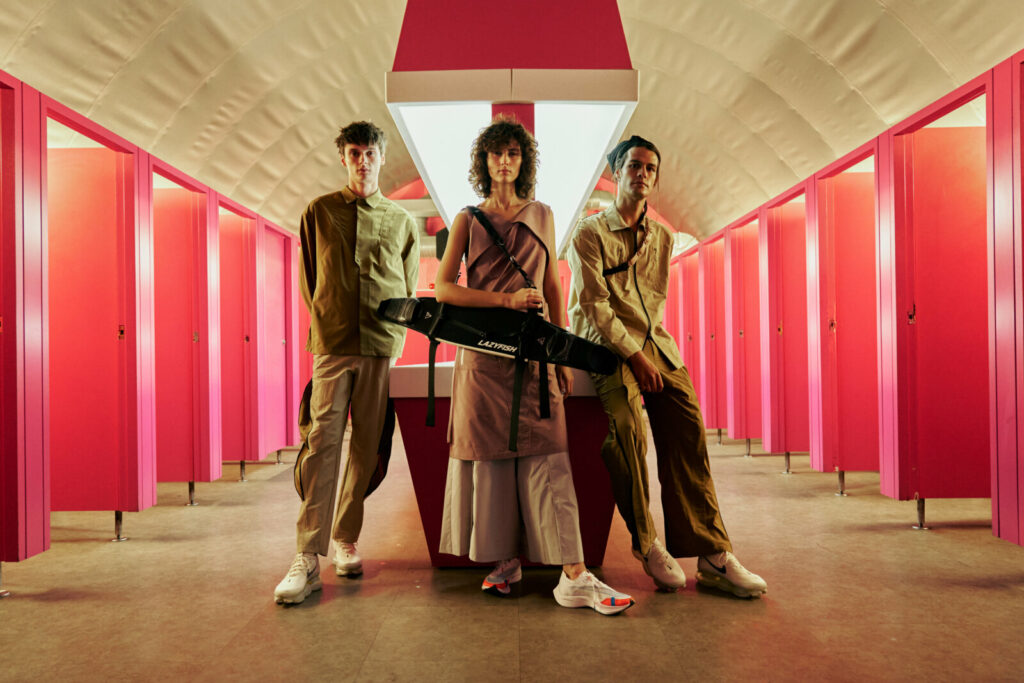 臺灣設計師品牌 oqLiq,過去即以未來感的機能服裝見長,將臺灣最聞名的科技布料發展為時髦的Ready-to-wear。
而本季 oqLiq 以「Aura Protection」為主軸,將許多電影和動漫小說中所提到的「罡氣」想像為一層力場,如同磁力一般不可視卻產生保護作用,將其結合劇情式的手法融入設計之中,攜手戶外品牌LAZYFISH登上時裝週。
As a brand from Taiwan,oqLiq is really good at using leathairet to created the high-end performance fashion.
OqLiq's Spring/Summer 2023 collection, Aura protection, brought the brand's mission of wearable confidence and culture to life ,Aura is like an invisible barbed wire, presenting a protective totem, and RIPSTOP, which is the military ripstop force fabric, combines into an invisible camouflage with textures of all kinds and the fins from LAZYFISH to project the concept of overall protection this season, running through the theme.


LAZYFISH從一片汪洋潛進英國倫敦街頭,古老且多元的城市,是視覺與文化的體驗感受,也為這次的旅行帶來許多前衛的創作,跳脫以往的拍攝、合作模式,是既期待與充滿挑戰的雀躍。
「LAZYFISH是一種態度,是一種日常。」
前往世界時尚四大時尚之都的路程,確實充滿不確定性與擔憂,然而運動帶來美好感受的腦內啡發揮作用,這一趟路如同運動過程產生的runner's high ,身、心與腦部的快樂連結,喚起了品牌的初衷。
LAZYFISH swims into the streets of London from the ocean, as a city which is ancient and multicultural, we had some different experiences about visual and culture here, including thinking out of the box to take the photos and the mode of cooperation, it also brought some creations we never done before. It was really full of expectation and challenge.
"LAZYFISH is your daily and a kind of attitude to face everyday, you find yourself from being lazy."
On the way that we head to the city which is the "Big Four" of fashion, it did really filled of uncertainties and worries, however, the endorphins from doing exercise brought the good feelings, the whole journey was really like doing exercise, you could feel the runner's high, the happiness of your body and your mind, it reminded us the beginning story of LAZYFISH.
Walk in the empire on which the sun never sets
October 2022/ 十月_台灣台北
回到品牌的起點,台灣。
Back to the where we start,TAIWAN.
作為融合時尚及性能的高端潛水品牌,LAZYFISH首次在時裝周亮相,與服裝品牌Oqliq攜手游了半片地球,走訪倫敦之後,最終於在台北時裝周完美落幕。

LAZYFISH,as a high-end diving brand that integrating fashion and performance, it was attending to the show of Oqliq during the fashion week at the first time.They've just swum back from London fashion week and had a perfect ending in Tapei fashion week.
平面攝影:Tim Wu、王建中
動態攝影:Iver Liu